Pool Algae Prevention
Please note: Not all products are stocked and may require to be ordered. Please call store for inventory details.
<<
Back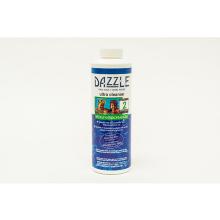 Ultra Cleanse
Item ID: (DAZ03001*)
Brand: Backyard Brands - Dazzle


Product Variations
DAZ03001
Ultra Cleanse 1L
DAZ03003
Ultra Cleanse 2L
Our recommended healthier approach to weekly algae control and the removal of organic contamination (oils/greases) for beautiful water. Works by removing phosphates to starve algae while powerful enzymes digest oils and greases to clean the water and pool surfaces. Also works to continually keep filter media free of organic contamination. Recommended as Step 2 of the Dazzle™ Healthier Pool Care Program for Guaranteed Algae-Free Results.

BuyDAZ03001*

---
Algae Resist 50
Item ID: (DAZ03004*)
Brand: Backyard Brands - Dazzle


Product Variations
DAZ03004
Algae Resist 50 500ml
DAZ03005
Algae Resist 50 1L
A 50% broad spectrum, dual quat algaecide. This 3rd Generation Active Algicide delivers the synergistic combination of two active compounds to significantly improve overall algicidal performance. Ideal for regular weekly use to prevent a wide variety of algal species from gaining a foothold on pool surfaces. Simply better formulation, more effective, lower carbon footprint (highly concentrated & lower dosage rate).

BuyDAZ03004*

---
Algae Clear 60
Item ID: (DAZ03010*)
Brand: Backyard Brands - Dazzle


Product Variations
DAZ03010
Algae Clear 60 500ml
DAZ03011
Algae Clear 60 1L
DAZ03012
Algae Clear 60 4L
DAZ03013
Algae Clear 60 20L
A 60% blended, non-foaming algaecide. Ideal for killing all types of algae commonly found in swimming pool water. Clarifiers in the formulation also aid in settling dead algae to the pool floor or helping it get trapped in the pool's filter media.

BuyDAZ03010*

---

Share with a friend