Every component of this salt water friendly pool is uniquely crafted using the latest in technological advances. This pool features 2" of R-10 insulation that has an insect/degradation barrier sandwiched between high quality corrosion resistant aluminum panels.
While affording exquisite beauty with its contemporary, yet timeless wall pattern the new Sensation Pool is a true enhancement to any backyard. This pool can be installed above ground, partially in ground or completely in ground. Walk in steps are a striking and practical addition to this pool.
Sensation On-ground pools can be all in ground, partially above ground or all above ground and have a lifetime warranty.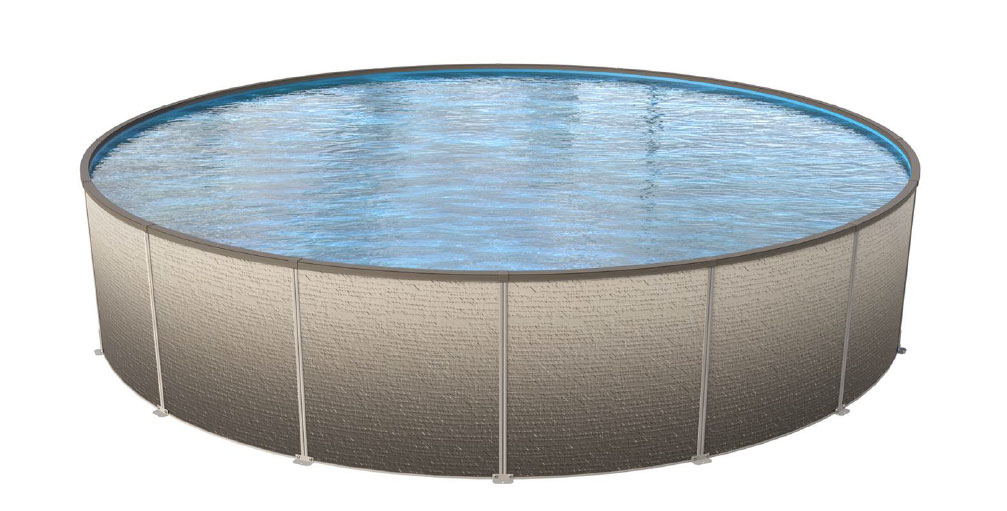 Why a McKie Sports Sensation on-ground?

when compared to a traditional steel or polymer in-ground, an on-ground is:
- up to $20,000 less expensive
- uses half the water
- uses half the chemicals
- uses 80% less heat
- uses 80% less electricity
- less time to install
- safer for small children (older children can touch bottom and parents can put feet down anywhere)
All the quality, look and feel of an in ground pool at an only slightly above ground pool price. A 52" wall height allows for approximately a 46" to 48" water depth.
Available in Round or Oval
52" wall
Available with or without Walk-In Step
Limited Lifetime Warranty
Multiple Coping Options
Inner and Outer walls are made with 5052 Aluminum alloy
2 Inches of insulation foam in walls
Can be all in ground, partially above ground or all above ground

Sizes: 16', 18', 21', 24', 27', 30'



Sizes: 16'x24', 16'x28', 16'x32', 18'x30', 18'x34'